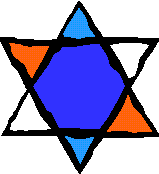 From the Jewish Chronicle July 11th 1997
Support group helping parents to come to terms with their children's homosexuality
By Lorraine Kirk
"We are all flabbergasted, devastated. It was a bombshell when we first found out."
The recollection of a parent whose son is homosexual struck a common chord with the participants at a Finchley meeting last week.
Hosted by Myrna Julius, it was attended by couples with a gay son or daughter. And while some of the parents had come to terms with their children's sexuality, others were clearly still finding it difficult.
Kenneth Morris – father of the chairman of the Jewish Gay and Lesbian Group – acts as unofficial chairman of the parental support group, which was set up in May of last year and organised the meeting.
"I might have wished things had turned out differently," he said, "but I'm proud of my son [Richard] and what he's achieved."
Involvement in the parental group had also been beneficial, he added.
Its origins date back to 1992 when Mrs Julius -whose son, Mark, is homosexual -wrote a moving letter to the JC explaining her dilemma when the Jewish Gay and Lesbian Helpline was banned from participating in the Chief Rabbi's fund-raising walk.
Mrs. Julius – who resigned from the United Synagogue in protest – was subsequently contacted by other couples with homosexual children.
One mother at the meeting told the JC while her husband had suspected that their son might be gay, the revelation had come as a complete shock to her.
For herself, Mrs Julius was reconciled to her son's situation. But she acknowledged that her husband felt very differently.
"While my son told me, my first reaction was: 'Are you happy? Are you well?" That's the most important thing.
"After all, he's still my son and I love him. A year or two later, I can now say quite easily to people that I have three sons – one's married, one's engaged and one's gay."
However, one parent told the meeting that whenever she went to visit her son and his homosexual partner in the North of England, she could not bear to sleep in his house, booking into a bed-and-breakfast instead.
For another mother, who was in tears throughout the meeting, the greatest regret was that she would never have grandchildren.
"Every time anyone brings out photos of their granddaughters, it cuts her like a knife," her husband revealed.
A father related how he had contacted a number of rabbis to publicise the group. The response from all was that they were happy to help but knew of no one in their congregation who was homosexual.
This was an indication, he said, that a homosexual would not turn to a rabbi for help, fearing the unforgiving attitude he might encounter.